Grow in WHo You Know:
Colossians
Fall Teaching Focus
Since January 2016, we've been experimenting with a new expression of being the church. We don't pretend to have everything figured out. Every day brings something new. But we are excited to be gathering weekly as a part of Christ's church in Adrian.
Our gatherings are simple. They aren't a worship service like you might expect. You won't find an auditorium full of chairs, but rather a smaller room full of tables. We sing a few songs together. We like to hear one another's voices. The teaching is more interactive than a usual sermon and gives time for people to process and discuss questions together.
We love having children around the table at our gatherings. Yet, we also know how hard it can be for mom and dad to focus while trying to keep their children occupied. In addition to table activities for the children, we also have a time within our 10:30 AM Gathering when children are dismissed with a pair of adults for a Bible lesson and corresponding activities.
We want people to walk away from each gathering having naturally talked with a variety of people rather than observing them from a distance. So whether you are an introvert or extrovert, you have a place around the table.
Where We Meet
Sundays 10:30 AM AND 6:00 PM | 737 E Beecher
In our morning gathering the goal is to worship as a church family. To worship is simply to focus and respond to God. We commonly do this through singing, teaching, prayer, table discussion, and communion.
In our evening gathering the goal is to be supported, equipped, and empowered to live connective lives as the church among those we have been placed throughout the week. We devote this time to training, sharing stories, and praying for each other as the church.
*Children's Time is provided in the 10:30 AM Gathering only
Prayer Gatherings
We gather for an informal, interactive time of prayer every Wednesday from 7:00 - 8:00 pm at the Neighborhood Church building, 737 E Beecher. We pray for each other, our church family, our community and our world. We will often pray through a portion of Scripture. There are times we pray as a group, other times we will spread out for individual prayer and contemplation. Anyone is welcome to join. Contact Alexis Torres if you have specific questions. (alexistr1025@gmail.com)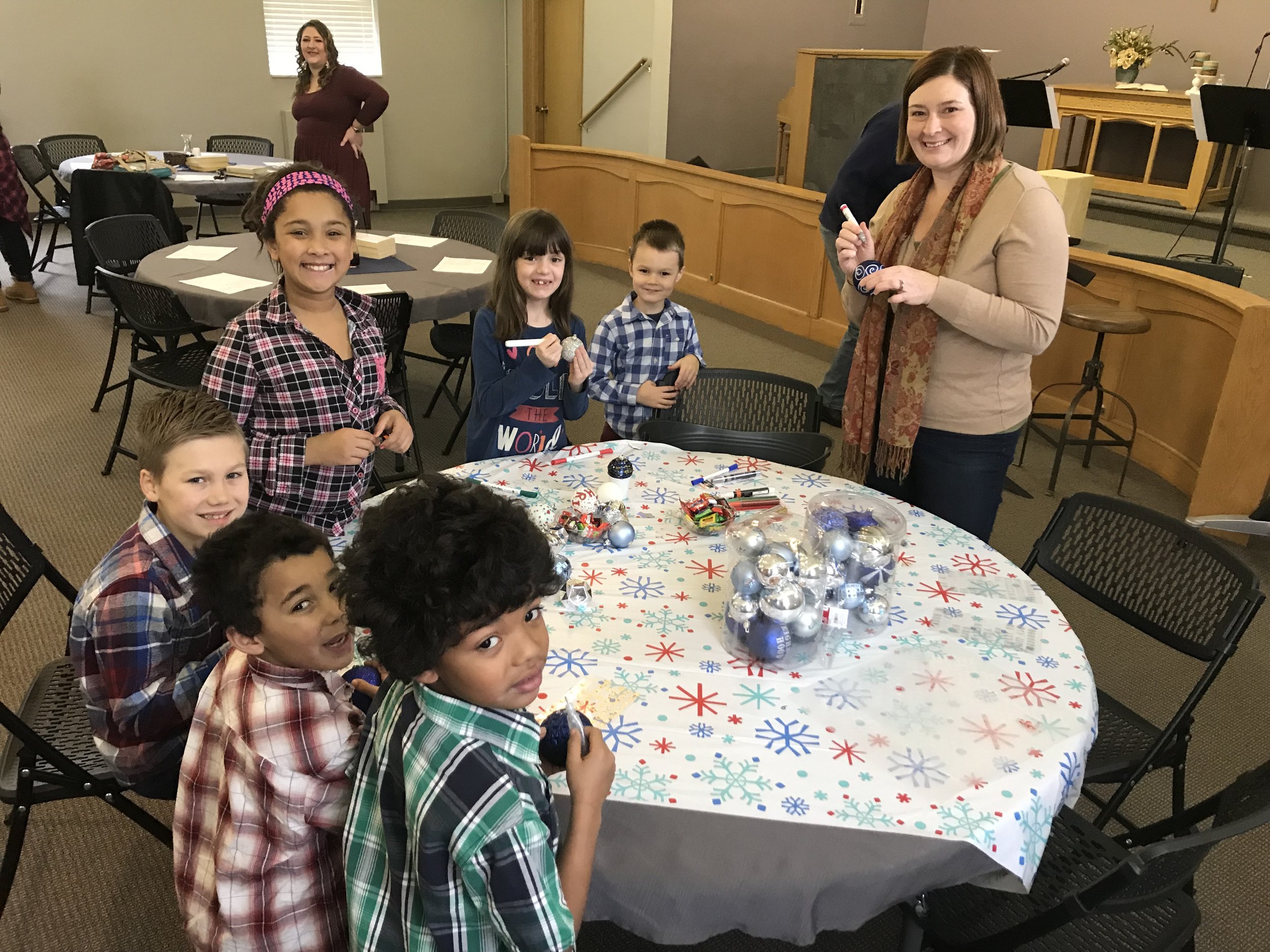 OnLine GIVING
If you consider yourself a part of the Neighborhood Church family or simply want to contribute to what God is doing in Adrian, we encourage you to give online by clicking the box below. Simply fill out the basic information, select an ongoing or one time gift you'd like to make, and choose "Adrian, MI - Neighborhood Church" from the drop down menu. Thanks for being a part of what God is doing in Adrian!
We are part of the Fellowship of Evangelical Churches. Best understood, "Evangelical" is a broad term referring to Christians whose relationship with God (Father, Son and Holy Spirit) is based on Jesus' work to make us right with God, rather than a relationship based on certain behavior, tradition or ethnicity. And because of Jesus we embrace the authority and relevance of the Bible for living a distinctively winsome and ultimately satisfying life.
We love Jesus--we cherish his presence and depend on his work. We love being his church--united as his family and sent together as his physical presence into our world. We love Adrian--in all her complexity, diversity, and uniqueness. We aren't perfect in any of these loves, but our love is genuine.
Following Jesus doesn't mean we have everything figured out, but rather we are following someone who does. We lay down our game-plan and stay responsive to the Spirit through prayer as God opens opportunities around us. Instead of barging ahead with what we think is best, we remain adaptive and attentive to what God is already doing around us.
People are not projects. We get to know our neighbors and love them for who they are, because Christ seeks us out and is committed to us wherever we are. So regardless of where people are at in life or what they believe, we are committed to nurturing a genuine relationship with them. And because we care about those around us, we want to point them to Jesus in the context of an authentic relationship.
We aim to be understandable and accessible for everybody. We value words like "ordinary," "everyday," and "simple." Whenever possible we do things in the simplest way. This allows us to invest our energy into other importantly simple (but often forgotten or crowded out) rhythms of life like inviting a neighbor over for dinner, being present with someone in a time of need, or volunteering in other people serving organizations.
Team Oriented In Leadership
Solo leadership can seem quick and efficient, but it is also vulnerable to abuse and hero-worship. Team-oriented leadership, on the other hand, can seem slow and complicated, but the benefits of combining abilities and perspectives is worth it. What's more, new potential leaders are more readily developed and included within a team context. We're designed for life together. That includes leadership.
Nate Hamblin
Nate is the lead pastor of Neighborhood Church. He grew up in Lapeer, Michigan and did his undergraduate & graduate work in youth ministry at Huntington University. He's served as a youth pastor in a few different churches. Prior to moving to Adrian in 2015, Nate served at Crossroads Evangelical Church in Wauseon Ohio for 11 years in a variety pastoral roles.
Nate considers himself a proud member of the "I married way above myself" club. He and Amanda were married in 2002, and have two young sons—Eli & Oliver. Nate enjoys the simple adventures of life—family time, food, yard work, laughter and watching college football (Go Blue!). He is a member of the Adrian Kiwanis Club, serves on the Neighbors of Hope Board of Directors, and had the privilege of serving as the part-time Director of Lenawee's Cradle to Career Partnership for nearly two years before returning to a full-time Neighborhood Church role.
Feel free to email Nate at: nbhamblin@gmail.com
audrey statler
Audrey is an assistant pastor of Neighborhood Church. Audrey was raised in Archbold, Ohio and lived there until she attended Taylor University to earn her undergraduate degree in Church Music and Vocal Studies. In the summer of 2012, she graduated from Taylor, married the love of her life, Mark and then moved to Nairobi, Kenya with him. They lived in Nairobi Kenya for 6 years, where they both taught music at an international Christian school called Rosslyn Academy. At Rosslyn, Audrey was the director of musical theater and taught church musicianship, leadership and theology of worship to High School students from around the world. She has also been the music coordinator and leader at her local international church in Nairobi for the past 5 years.
While in Kenya, Audrey and Mark were blessed to have their first child in 2016. Audrey, Mark, and their daughter Mattie moved back to the States in 2018. They currently live in Bowling Green, Ohio where Mark is working towards a master's degree at BGSU and Eliana joined the family in 2019. Audrey is thrilled to be a part of Neighborhood Church and loves getting to hear all the unique stories of the wonderful people who are a part of this community.
Feel free to email Audrey at: audreystatler@gmail.com
Alexis Torres
Alexis is an assistant pastor of Neighborhood Church. Alexis grew up in Adrian, but spent many summers with family in Puerto Rico. His high school years involved several hours at the gym and in the ring as a member of Joe's ALCC boxing club. He is a graduate of Adrian High School. Go Maples!
In 2016, Alexis was introduced to Caleb Barrows (a founding co-pastor) and became a part of Neighborhood Church. He was involved in several Bible Studies and began participating in many behind the scenes leadership roles. In 2017, a job opportunity took Alexis to Florida, but introducing people to Jesus and starting Bible studies continued. Alexis is passionate to know Jesus and make him known. He feels honored to be back serving Adrian among Neighborhood Church. He is an active volunteer at the Boys and Girls Club of Lenawee and enjoys engaging students on the Adrian College and Siena Heights University campuses.
Feel free to email Alexis at: alexistr1025@gmail.com

ELDERS
Jeff Eagen, Chris Eder, Eric Ferwerda, and Nate Hamblin serve as a team of "sheep-shepherds" sharing the responsibility of protecting, feeding, leading, and tending to the people, mission, and values of Neighborhood Church. Neighborhood Church uses the term "pastor" to refer to those employed by the church with individually tailored job descriptions. Whereas "elders" are volunteers who have agreed and been affirmed by the church family to fulfill the role of sheep-shepherds as described above. The lead pastor fulfills a dual role serving both as a pastor and member of the elder team.
Here's A Thought
Why Jesus?
There is a long list of things we are told can fix us. But we wholeheartedly believe that Jesus is the only real solution and goal of life. Trying harder, being a good person, believing in yourself—all of these will ultimately disappoint. If we want to love people well, if we want to point them towards what is best, we're convinced we must point them to Jesus.
But it isn't facts about Jesus, it isn't merely Jesus' example, or even an awareness of Jesus' teaching that people need. It is Jesus himself, nothing more and nothing less. We are all created for life in Him and equal in our need for Him. We feel the void—the lack of fullness in our lives—when we live for anything or anyone else. Knowing Jesus and experiencing the power of his presence in our lives is the remedy for the drug addict and religious hypocrite alike.
And it's not just individuals who need Jesus, but whole communities like Adrian can be transformed by him. He restores neighborhoods. He redeems broken places around us. Jesus transforms people's lives. And as he does, the social and economic landscape begins to be reshaped as well. This is why for us, it's all about discovering and developing life in Christ together by connecting people to Jesus, each other, and their neighbors.
Why Neighboring?
One of the most transformational teachings of Jesus is "to love your neighbor as yourself." But as a helpful book "The Art of Neighboring" makes clear, by generically thinking of everybody as our neighbor we unintentionally make no one our neighbor. We lose sight of the people who live right around us. And in our hunger for community and belonging, we often forget to connect to the person next door.
Churches typically do a great job of organizing people together to donate to a certain cause or volunteer for a weekend clean-up. But since this is already being done so well by the churches and non-profits in Adrian, we want to learn how we can encourage people to simply know, love, and serve their neighbors in the day-to-day course of their lives. Instead of always initiating or planning a group effort, we want to invest in the organized efforts already being made. Even more so, we constantly encourage one another to seize the ordinary neighboring opportunities around us. And through these everyday interactions and relationships, we hope to see Adrian become a community of relationally rich and welcoming neighborhoods.